Keindahan Gunung Bromo
8:57:00 AM
Hello guys Happy Easter for you who celebrate it !
Okey i wanna share bout my exhausted trip to mt.bromo..
Gue berangkat tanggal 1 april 2010 jam 9.00 malem dari jogja ke malang naik travel seharga 95.000 rupiah. Sampe malang jam 05.30 pagi, gue nginep di kosan temen gue di daerah UNIBRAW. Puas jalan jalan di Kota Malang seharian, gue mulai merencanakan kepergian ke bromo. Kita berangkat jam 11.00 malem hari jumat tanggal 2 april 2010 naik rent car+driver 450.000 yang di baayarnya dibagi 4 sm temen2 gue. Sekitar 3 jam sampai di kaki gunung bromo, untuk naik keatasnya sekarang harus menggunakan hartop yg disewakan dan itu kena biaya 300.000. Naik keatas jam 03.00 pagi dan butuh waktu 30 menit untuk sampe diatas.
Jam 03.30 pagi kita sampe tepat di puncak bromo, dingin banget gue berlapiskan 1 t-shirt dan 2 jaket, legging+jeans dan sarung tangan.
Menunggu Sunrise yang tepat muncul jam 05.10 pagi tapi sayang banyak kabutnya :(
Sunrise on the top of Mt. Bromo
Kemudian semakin lama semakin terang, yang tadinya gunungnya ga keliatan, sekarang keliatan jelass, sumpah CANTIK banget deh ga boong
Habis dari sana kita dibawa keliling masih menggunakan hartop tadi, ke kawah gunung bromo yg daratannya penuh dengan pasir, klo kata drivernya ini tempat yg dipake buat syuting film pasir berbisik. Untuk bisa sampai diatas dan melihat kawah bromo kita harus tracking nanjak dulu terus baru naikin tangga lagi yg jumlahnya 250 anak tangga.
Untuk trackingnya gue naik kuda seharga 50.000 bolak balik, baru setelah sampe depan anak tangga gue jalan dan menaiki itu 250 anak tangga. Cape tapi pas sampe diatas gue cuma bisa bengong sumpah ciptaan TUHAN itu ga ada yg ngalahin cantiknya.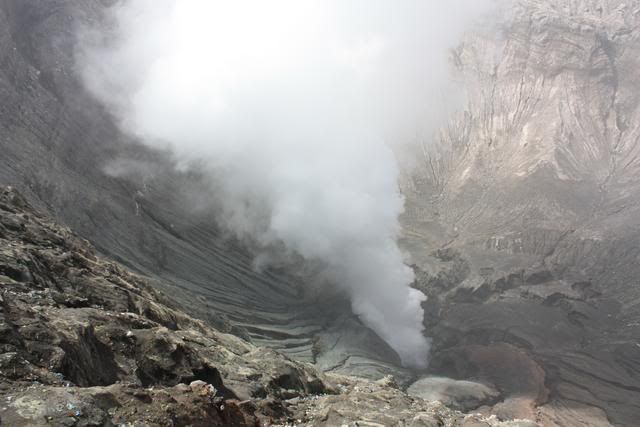 Kawah Gunung Bromo